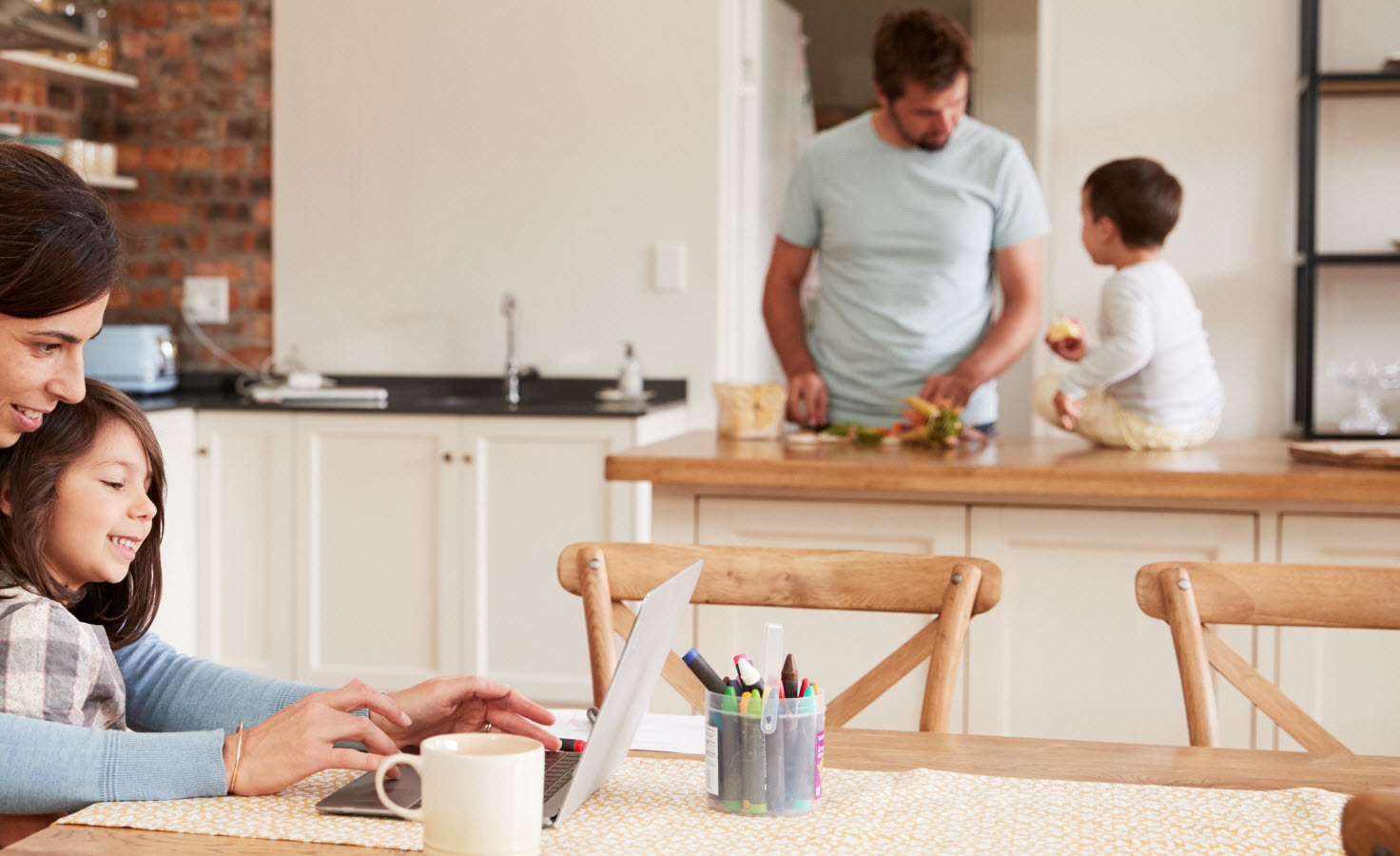 Balance
3 Tips to Maximize Business and Schoolwork in a Full House
The kids are home from school.
And you have to work from home.
With fewer people headed into their agencies and most schools sending their students home for the time being to help slow the spread of the coronavirus, it's a challenging situation to say the least. If you're running your agency from home while your kids are completing class work in the next (or same?) room, how can you make sure you're doing right by your business and your kids' education?
While there's no one-size-fits-all solution, try to focus on these three tactics to help make the most of your new logistical reality.
1. Create a schedule

Now that everyone is home, schedules are usually the first things to drop by the wayside. Don't let this happen. You still have a business to run and your kids have schoolwork to complete—this isn't their summer break. Stick to your normal routine and business schedule as best you can. Similarly, make sure to set up a schedule for your kids. You may not be able to mirror a school day, but setting expectations for the day will help.
Try to schedule your kids' individual schoolwork when you have to be engaged with your employees, co-workers, and customers. This way, for the academic work that does require some parental guidance, you can be available during your solo work time.
You can find a number of sample schedules online to help develop your own family work/school schedule—a quick search will return multiple options so you can find the one that's right for you. And speaking of the web …
2. Online resources
Looking for ideas and activities to help fill some hours after the schoolwork is complete for the day?
Let the web help. Here's just a tiny sample of the online educational resources you can take advantage of to fill your kids' schedule:
Khan Academy, featuring free online courses and instruction that can complement their day-to-day schoolwork
National Geographic Kids, featuring a treasure trove of content and activities for your curious explorers and nature lovers
PBS Kids, featuring educational fare for the younger crowd and a daily parents newsletter filled with tips and suggestions
Also, be sure to check out virtual tours options — many museums, zoos, and other public places now temporarily closed are offering the next best thing to being there in person.
3. Patience
Is this really a tactic?
You bet. This is an unprecedented time. Very few of us have ever encountered anything quite like this viral outbreak, so there are bound to be anxious household members. You can set a great example for your kids by remaining calm, answering their questions as honestly as possible, and cutting them a little slack as they work through this situation, too.
Finally, as you get your agency firing on all cylinders from home, remember to be patient with yourself. You're not alone in trying to figure out this new experience. Lean on your trade associations like the Big I and PIA for support and guidance. Embrace the help. And let your sales reps know how they can help, too.
Remember, when something doesn't quite go according to plan as you all adjust to this new temporary normal, take a deep breath, refocus, and get back to it. You, your family, and your business are resilient, and you'll get through this time together.
Stay healthy and stay productive!